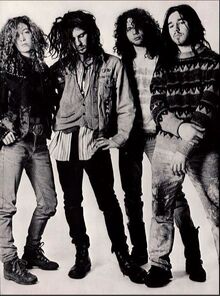 White Zombie was an American heavy metal band that formed in 1985. Based in New York City, White Zombie was originally a noise rock band, and was known for its later heavy metal-oriented sound. Their best-known songs are "Thunder Kiss '65", "Black Sunshine" and "More Human than Human". White Zombie was co-founded by Rob Zombie, after coming up with the band idea in 1985 while attending Parsons School of Design in his junior year. Zombie's girlfriend at the time, Sean Yseult, was the other co-founder.
Links to Peel
On his Radio Bremen show in 1987 [1], Peel mentioned that he would write letters to small American labels to send him records of artists signed to them. One of them called Silent Explosion Records, sent him a copy of White Zombie's Psycho-Head Blowout EP, which he played two tracks on the show.
In the Observer, published on 3rd January 1988, Peel mentioned that White Zombie were not far off from entering the 1987 Festive Fifty.
Peel would often play White Zombie throughout the late 80's and early 90's, but when the band got signed to a major label and changed their music from noise rock to heavy metal, in the direction of Groove and Industrial style of metal, he seemed to have lost interest in the group.
Shows Played
1987
1988
1989
1992
15 May 1992: Knuckle Duster (Radio 1-A) (LP - La Sexorcisto: Devil Music Vol. 1) Geffen
15 May 1992: Thunder Kiss '65 (LP - La Sexorcisto: Devil Music Vol. 1) Geffen
External Links