Obi-Wan Finale - The Loop
Play Sound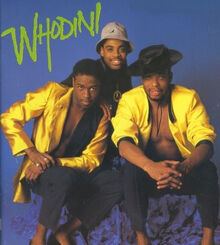 Whodini is an American hip hop group that was formed in 1982. The Brooklyn, New York-based trio consisted of vocalist and main lyricist Jalil Hutchins; co-vocalist John Fletcher, a.k.a. Ecstasy (who wore a Zorro-style hat as his trademark); and turntable artist DJ Drew Carter, a.k.a. Grandmaster Dee.
Coming out of the fertile New York rap scene of the early 1980s, Whodini was one of the first rap groups to add a R&B twist to their music, thus laying the foundation for a new genre, new jack swing. The group made its name with good-humored songs such as "Magic's Wand" (the first rap song accompanied by a video), "The Haunted House of Rock", "Friends", "Five Minutes of Funk" and "Freaks Come Out at Night". Live performances of the group were the first rap concerts with the participation of breakdance dancers from the group UTFO. Russell Simmons was the manager of the group in the 1980s.
The group has released six studio albums. 14 singles of the group hit the charts of the American magazine Billboard. Four albums of the group were certified Platinum by RIAA.
Links to Peel
Peel played tracks from the group in the 80's, but never appeared to play any of their material after that decade, when he got disillusioned with many American hip hop acts who used misogynist and violent lyrics.
Shows Played
1983
1987
External Links