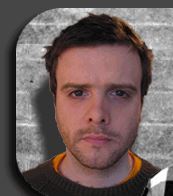 William Robert Anfield Ravenscroft
(born 12th January 1976) is the oldest of Peel's children, whose first name was named after schoolboy character William Brown in the
Just William
stories and the middle names Robert Anfield after his grandfather and
Liverpool
Football Club's ground: he studied at Combs Middle School in
Stowmarket
, Suffolk and at the University of Liverpool studying Archaeology. William later on got involved in setting up a website called
Unpredictable Porridge
[1]
, where unsigned bands could have their music listened to directly by music executives. The website has since been closed and there is no further news on William's current activities.
Girlfriend / Wife
William met his long term girlfriend Zahra d'Aronville at university, where she was studying Zoology. After graduating, the couple moved to Newcastle, where Zahra was working as a Marine Biologist at an aquarium and later promoted to management level. [2] In 2008, they decided to get married at St Andrew's Church in Great Finborough, Suffolk. [3] The couple currently have three children. [4]
Father And Son
John Peel often mentioned his son on his radio shows and in one television documentary in 1999 called Father And Son, he talked about his relationship with William and his criticism of his bedroom hygiene. Later on in his BBC Radio One show from 01 September 1999, Peel apologised privately and publicly to his son William on air about embarrassing him.
Mentioned On Shows
The list comes from the database of this site and is incomplete. Please add further information if known.
1976
1978
25 January 1978: (JP: 'And that's William Ravenscroft the trainee football hooligan, who has a nasty way of getting up around this time to listen to his father's radio programmes.') 
1979
1980
1982
24 February 1982: JP: "..having considerably embarrassed Phil Oakey at the National Rock and Pop Awards by going over and telling him how good I thought they (Human League) were and how good my son William thinks they are as well.."
1983
13 January 1983 (TOTP): (JP: …and now at No.17 in the charts, happy birthday William, this is the theme music from 'E.T.') 
1984
1985
04 March 1985: Peel mentions going to Holland with William (age 9) and enjoying spending time with his son, including visiting an excellent Turkish Restaurant.
1986
29 January 1986: Peel mentions meeting LL Cool J in the morning, but failed to get an autograph from him for his son William.
1987
12 January 1987: Peel mentions that it's William's birthday, who was not pleased along with his friends when his father dropped them to school during the snow and found out that he was the only one in the village to successfully drop them, whilst the place was closed and everybody else was at home.
27 January 1987: Peel had reservations about the Microdisney LP, but his son William doesn't seem to have any. He then plays his favourite track, Give Me All Of Your Clothes from the album, as it has an imitation of Alan Vega.
23 February 1987: Peel had been to see the band Europe in Birmingham with his son William. "It was one of those things you go to really expecting to be able to tear it to shreds to be honest with you, actually in a sense there wasn't enough there to dislike. By the end of it I felt quite sympathetic towards them. You'll be appalled to hear that, I don't doubt, some of you, but... a good show, there's no getting away from it. They could actually play quite well and it was quite entertaining. Perhaps I'm mellowing in my old age." (Review is reprinted in Olivetti Chronicles, p.64)
09 March 1987: Peel mentions him and the Pig play jokes when shopping by having her tell him 'speak up you stupid man' and saying to his son William in the car that his dad and mum are not married and that his father is an impostor named Andrew.
15 June 1987: (JP: 'You probably don't realise that we get industrial injuries in this job. I may have mentioned this to you before, but I spend so much time opening envelopes with the side of my thumb that there's a kind of permanent part of me thumb which is all very dry and cracked, and from time to time it starts bleeding rather profusely: it's doing it at this very moment. I just tell you this so that you'll feel sorry for me, but I don't think it's actually severe enough for me to be able to claim any compensation from any kind of industrial injury compensation board, if such a thing even exists any longer. I've also got a twisted ankle, because this afternoon I spent playing football with our William, because he'd got the day off school. Quite interesting, because he had to go to a specialist in Ipswich this morning because he's growing two rows of teeth. It's not unusual in crocodiles, but fairly unusual in sub-humans, I think. Looks fairly interesting, though. I've been saying he ought to leave it as a kind of feature, but he thinks it ought to be sorted out: pick the best of them and take the rest out.')  
30 June 1987: (Reads a letter from a listener who says, 'If you have four children, why do you only ever mention William, or are all four of them called William?', to which JP replies, 'That's not a bad idea. If I'd thought of calling all four of them William, I might have gone ahead and done it.')  
14 July 1987: Peel mentions that William has had a bad ole week, because last week he had a black eye because of a car accident and he split his forehead today after falling from his bicycle, whilst cycling in the village.
21 July 1987: Peel mentions that his son William has so far had 2 lessons in learning to play the Saxophone.
28 July 1987: Peel mentions that the Pig has said William unprecedented bought sweets for Thomas with his own money, which JP thinks won't last long, but is a step in the right direction.
17 August 1987: John ponders exactly how his weekend guests from Germany managed to get through seven pints of milk, and has an argument with William about saxophone playing (or more precisely, the lack of it.
28 September 1987: (JP: 'This is a record which could easily be recorded by William 11, Alexandra 9, Thomas 7 and Florence 5. In fact it's by the Angry Samoans, but it applies at our house, My Old Man's A Fatso')
1988
1989
1990
1991
1992
05 January 1992: Milk: 'Pyrosulphate' (Peel Session) (JP: 'Primordial...Our William's still fairly livid that I saw them in Stoke-On-Trent and he didn't.')
20 January 1992 (BBC World Service): Peel mentions that his son William became 16 last week and went with his friends to London to see Extreme Noise Terror.
15 February 1992: Liverpool are playing Ipswich the following day (in the 5th round of the FA Cup). All the family are going except JP (preparing for the night's show) and William ("he's not very interested in football"). Peel: "Not torn exactly. Obviously I hope that Liverpool will win it, because I hope they will win everything, but I wish it wasn't Ipswich they were going to have to beat." The match ends in a 0-0 draw, although Liverpool win the replay and eventually go on to win the cup that season.
16 February 1992: (JP: "Two great sessions tonight. Even our William agrees.") The sessions were from Even As We Speak and the Cranberries.
02 March 1992 (Ö3): Peel's son William is on a skiing holiday in Austria.
21 March 1992: William is in the studio, and JP urges him to play a choir sound on a synthesizer.
24 April 1992: John describes having seen Jacob's Mouse, House of Love and The Fall at the Waterfront in Norwich with William. Mark E Smith had shaken the latter's hand.
19 June 1992: (JP: 'The first tune is William because our William has been doing his exams this week and has been in a thoroughly foul mood and this might cheer him up.') Come: William (Peel Session)
07 August 1992: (JP: 'And this is our William's pick to click for the week.')  Hallucination Generation: Pulsation (12 inch EP – Somebody Give The Lord A Handclap) Thunderpussy (John gets the artist, record and label mixed up)    
15 August 1992: Peel mentions his son, William talking about Steve Hillage, who he thought was older than his dad. JP played the track Pentagramaspinn to his son, but the latter decided not to stay when the song finished.    
04 September 1992: Peel had just played at the Reading Festival. John recounts an amusing tale from the festival involving a bunch of 90s comedians and his son William....
19 September 1992: Peel tells how he and son William had planned to see Pond live earlier in the week but after a "ludicrous argument" they didn't go. The following track is played for him. Loudon Wainwright III: A Father And A Son (LP - History) Virgin (JP: 'Parallels our situation so closely it's uncanny, actually.')
07 November 1992: John failed to see Pond when they were at the Waterfront in Norwich due to having had a row with son William.
20 November 1992: (JP: 'That's enough of this nepotism.' After asking his son William about the Bivouac gig at the Falcon.)
19 December 1992: (JP: 'If William is still listening, this is his choice for the programme.') 70 Gwen Party: 'Auto Killer UK (LP-The Optical Glass Empire)' (Snape)
25 December 1992: (JP: 'This was William's choice for tonight's programme.') Aphex Twin: 'Didgeridoo (12 inch)' (R&S)
1993
1994
01 January 1994 (BFBS): (JP: 'This is a track which I keep coming back to.... and it's a song that always upsets me, I don't know why I always play it - you think - "He's been reading my diaries" it identifies so neatly the relationship between father and son at least as experienced between myself and our William, nearly 18.') Loudon Wainwright III: A Father & A Son (album - History) Virgin V2703
28 January 1994: Peel mentions that his children, Alexandra & Thomas and Florence all took their speech & drama exams and says that his other son William has got a place at University of Liverpool as long as he passes his A-Levels. He also said that he got an NME award as well.
15 July 1994: Tribute To Nothing: 'Can't Get Up' (Peel Session) (JP: Well I'd like to dedicate that track to our William, who has a very similar problem to that.')
1995
1996
1997
1998
1999
2000
2001
09 May 2001: Peel gets an email from his son William, who writes was the mullet that he saw in Finland as good as Pat Sharp or his mum's old one.
2002
05 March 2002: JP: "I got a concerned phonecall from our William actually, while that record was playing, to say that his girlfriend was very disturbed indeed at the thought that I might actually have a hymen in a matchbox. I had to assure her that it was a rather tasteless joke."
2003
24 September 2003: Peel mentions that William had been to see the Immortal Lee County Killers recently and was very impressed. "In fact, he went to see them again the following night, that's how good they were."
05 November 2003: It is mentioned in passing that William had been in Prague that weekend.
2004
07 January 2004: As a Christmas gift, William and partner Zahra had given Peel "an excellent book" of photographs for the most part taken along Route 66 in the US.
08 January 2004: Peel's production team decide to play a rendition of a musical card playing 'You're The One I Want' from the musical Grease to celebrate William's birthday on the 12th of January. 
See Also
Community content is available under
CC-BY-SA
unless otherwise noted.