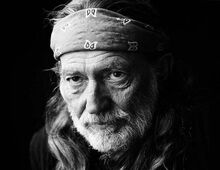 Willie Hugh Nelson (born April 29, 1933) is an American musician, singer, songwriter, author, poet, actor, and activist. The critical success of the album Shotgun Willie (1973), combined with the critical and commercial success of Red Headed Stranger (1975) and Stardust (1978), made Nelson one of the most recognized artists in country music. He was one of the main figures of outlaw country, a subgenre of country music that developed in the late 1960s as a reaction to the conservative restrictions of the Nashville sound. Nelson has acted in over 30 films, co-authored several books, and has been involved in activism for the use of biofuels and the legalization of marijuana.
Links to Peel
On his 11 February 1986 show, Peel dedicated a Willie Nelson record to Andy Kershaw after they along with Janice Long were discussing the merits of Willie Nelson. He continued to say that he used to listen to Touch Me by Willie Nelson when he was living in Dallas, America in the 60's. Also in the same year, Peel often played a track from the Sewer Zombies, called 'They Died With Their Willie Nelson T-Shirts On.'
Peel mentioned that when he saw the tracklistings of the House Of Love's album and saw the title Touch Me on his 01 June 1988 show, he thought it maybe a cover of Willie Nelson's track, but was sadly disappointed that it wasn't. Nonetheless, he thought House Of Pain's Touch Me was not a bad track.
Shows Played
1973
1986
1994
1997
1998
2000
2002
Other
External Links
Community content is available under
CC-BY-SA
unless otherwise noted.