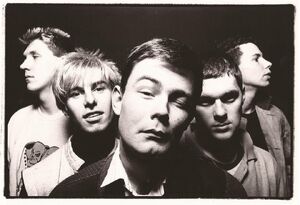 The Wolfhounds are an indie pop/noise pop band formed in Romford, UK in 1985 by Dave Callahan, Paul Clark, Andy Golding, Andy Bolton and Frank Stebbing, and originally active until 1990. The band reformed in 2005 and continues to write, record and play live, releasing new albums in 2014 and 2016. The Wolfhounds began as a slightly askew indie pop/rock band, and signed to the Pink label in 1986. First EP Cut the Cake was well enough received for the NME to include them on their C86 compilation album. After three singles and debut album Unseen Ripples From A Pebble on Pink, they briefly moved to Idea Records for the Me single, then rejoined Pink's boss at his new label September Records. September soon evolved into Midnight Music which was the Wolfhounds' home for all subsequent releases.
Links To Peel
The band did three sessions for Peel's show and singer David Callahan, in an interview with writewyattuk blog[1], mentioned never ever meeting the DJ:
"No, he very rarely came down to sessions. Occasionally he would write you a letter though – a personal note. Mostly it was all done through John Walters and the BBC office. Your manager would get a call to be there at a certain time. I think you were allowed eight hours, with no breaks. We'd virtually play live, with a few vocal overdubs or whatever. Often we played the songs a bit too fast, particularly because of nerves or reasons you're not allowed to publish! But they gave a fairly accurate representation of what the band was doing live at the time."
Later on on the interview, Callahan conceded that at the end of the 80's, he felt the band improved, but the UK audience became less interested in them along with John Peel:
"In retrospect, it's quite hard to consider how tied up the scene was with the music press. They called the shots, and if you didn't get a prominent review you were done for. Also, John Peel wasn't really into the later stuff so much, so we couldn't get a session there. Our whole lifeblood of the radio and the press was cut off apart from in Europe. Over there, we'd still get sessions, reviews, publicity, interviews, so tried to tour there as much as we could. But we were hitting 30 and completely skint, half of the band still living with their parents, rehearsing in front rooms. Also, I'd fallen in love with the idea of sampling by then, as was used minimally on a couple of the later albums. I could see massive potential yet knew the band weren't going to be into that."
After the group split in 1990, singer David Callahan joined Moonshake, who did a session for Peel's show in 1992 and later on completed a Master of Science degree in taxonomy and biodiversity at London's Imperial College and carving out a career in conservation along with reforming the Wolfhounds in 2005.
Festive Fifty Entries
Post-Peel
Sessions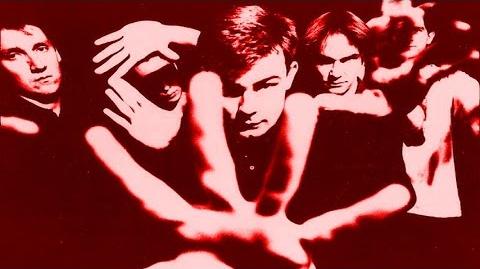 1. Recorded: 1986-03-23. Broadcast: 01 April 1986
Me / Anti-Midas Touch / Hand In The Till / Whale On The Beach
2. Recorded: 1987-05-26. Broadcast: 10 June 1987. Repeated: 30 June 1987
Rule Of Thumb / Sandy / Boy Racers / RM1 / Disgusted E7
3. Recorded: 1988-01-19. Broadcast: 01 February 1988. Repeated: 17 February 1988, 05 April 1988
Happy Shopper / Non Specific Song / Son Of Nothing / William Randolf Hearse
Other Shows Played
1987
1988
1989
1990
See Also
External Links
Community content is available under
CC-BY-SA
unless otherwise noted.