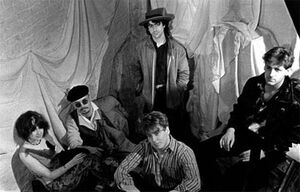 The Woodentops are a British indie band that enjoyed critical acclaim and moderate popularity in the mid-1980s. The band formed in 1983 in South London with an initial line-up of Rolo McGinty (vocals, guitar, formerly of The Wild Swans), Simon Mawby (guitar), Alice Thompson (keyboards), Frank DeFreitas (bass guitar), and Benny Staples replacing Paul Hookham (drums).
After a debut single, "Plenty" on Food Records in 1984, which received a glowing review from Morrissey in Melody Maker, they signed to the independent label Rough Trade Records, releasing a series of singles in 1985 and their debut album, Giant, in 1986.
The band then became more experimental and frenetic when playing live, using more electronic sounds.  The Woodentops continued to play live, touring the world until 1992, and then singer Rolo McGinty resurfaced as a DJ called Pluto in the 1990s, and with Rob Miller for the Dogs Deluxe electronica project. He also provided vocals for Gary Lucas's, Gods and Monsters. Guitarist Simon Mawby was briefly a member of The House of Love in the early 1990s.
The Woodentops returned to live performances in September 2006 and, in October 2009, they performed in a special concert at the Queen Elizabeth Hall in London's South Bank. They also curated the events in the Front Room of the same theatre with an exhibition of works by artist Panni Bharti, and concerts by musicians Worm, Othon and Ernesto Tomasini.
Links to Peel
The Woodentops did many sessions for the BBC including those with Janice Long, Simon Mayo and John Peel. In an 2007 interview with Penny Black Music, singer Rolo McGinty explained that his best sessions were with Peel:
"The ones that really meant a lot to me were the three sessions we did for John Peel. I was a John Peel under-the-pillow listener. His voice was part of my teenage life and I heard many a thing I grew to love first time on John Peel." [1]
Listeners in 1985 on Peel shows also voted couple of the Woodentops songs at the Festive Fifty.
Festive Fifty Entries
Sessions
1. Recorded: 1984-09-08. Broadcast: 19 September 1984. Repeated: 05 November 1984, 28 May 1985. "Well Well" & "Everything Breaks" available on The BBC Sessions Renascent REN CD 21
Get It On / Well Well / Everything Breaks / The Last Time
2. Recorded: 1985-08-27. Broadcast: 09 September 1985. Repeated: 22 October 1985. Available on The BBC Sessions Renascent REN CD 21
It Will Come / Plenty / So Good Today / Plutonium Rock (Godzilla)
3. Recorded: 1986-03-30. Broadcast: 07 April 1986. Repeated: 23 April 1986, 19 May 1986. Available on The BBC Sessions Renascent REN CD 21
Give It Time / Move Me / Special Friend / Have You Seen The Lights
Live
Do It Anyway
The Last Time
Everything Breaks
Good Thing
Other Shows Played
1985
1986
1987
1988
1989
1990
14 August 1990: 'Move Me (7")' (Rough Trade) (JP: 'A somewhat crucial record, in its own way.')
1991
29 September 1991: Stay Out Of The Light (Peoples mix) (12") Hyperactive (JP: "They're not the perky popsters of yesteryear, are they?")
11 October 1991 (BFBS): Stay Out Of The Light (Peoples mix) (12") Hyperactive
Pluto (Rolo McGinty)
04 February 1995: Free To Run (v/a album - Global Technological Innovations: UK 1) New Electronica
Dogs Deluxe (Rolo McGinty & Rob Miller)
External Links
Community content is available under
CC-BY-SA
unless otherwise noted.