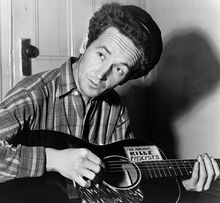 Woodrow Wilson Guthrie (July 14, 1912 – October 3, 1967) was an American singer-songwriter, and one of the most significant figures in American folk music. His work focused on themes of American socialism and anti-fascism. His music includes songs such as "This Land Is Your Land", written to oppose the American exceptionalist song "God Bless America", and has inspired several generations both politically and musically. Guthrie wrote hundreds of country, folk, and children's songs, along with ballads and improvised works. His album of songs about the Dust Bowl period, Dust Bowl Ballads, was included on Mojo magazine's list of 100 Records That Changed The World, and many of his recorded songs are archived in the Library of Congress. Songwriters such as Bob Dylan, Johnny Cash, Bruce Springsteen, Billy Bragg amongst others have acknowledged Guthrie as a major influence on their work. He frequently performed with the slogan "This machine kills fascists" displayed on his guitar.
Links to Peel
On the 30 May 1981 (John Walters) show, where Peel talked about Lonnie Donegan, he described listening to Woody Guthrie when he was young and thinking that his music was a bit dull. Nonetheless Peel did play some of Woody Guthrie's music, especially in the 1987 Rebel Yell documentary and in 1990 on his shows, including at least two plays of "Lost John", a song which Donegan had made famous in the UK.
Peel may have mellowed in his view of Woody Guthrie because of the respect shown to the singer by artists the DJ admired who had been influenced by Guthrie or had covered his songs. In 1969 Country Joe McDonald issued an entire album of Guthrie material, Thinking of Woody Guthrie, from which JP played at least one track, and in a 1976 session Ralph McTell included two of Woody's best-known songs. Yet when compared to other folk musicians, especially those influenced by Woody Guthrie, from Bob Dylan and the early Donovan to Billy Bragg, Guthrie's own recordings were rarely played on Peel's programmes, suggesting that he never became a Peel favourite.
Woody's son Arlo Guthrie became popular with the hippy audience in the late 1960s, appearing at the Woodstock festival and in the film of the event. His song "Alice's Restaurant" was turned into a film (directed by Arthur Penn) which portayed a hippy commune, but there don't seem to be many tracks by him in existing Peel show playlists.
Shows Played
1990
Covered
(The list below was compiled only from the Cover Versions page of this site. Please add more information if known. The list does not include tracks played by Peel from the 1998 "Mermaid Avenue" album of Billy Bragg / Wilco, which featured previously unheard lyrics written by Woody Guthrie, put to music written and performed by Bragg and Wilco. Since the songs were completed (co-written) by Bragg and Wilco themselves, their versions are not counted here as "covers". For related plays, please check the Bragg and Wilco artist pages.)
Artist | Track | First Known Play
External Links