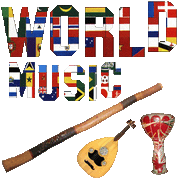 The term "world music" has been used since the 1980s to describe various forms of music originating outside the Anglo-American pop mainstream, yet having an appeal to a segment of the worldwide popular music audience. In Britain, world music became an accepted definition following a meeting in
London
in
1987
, which brought together a group of music industry figures who were seeking a more efficient way of marketing and selling records of music from various parts of the world
[3]
. Some albums by artists from countries such as
Bulgaria
,
Zimbabwe
, Mali and Cuba were selling well and receiving airplay on radio shows such as those hosted by
Charlie Gillett
,
Andy Kershaw
and Peel himself, but non-Anglo-American music as a whole was difficult to market and to categorise. In response to this problem, the genre "World Music" was established, with its own charts, promotional networks and record shop browsing sections. The project was successful and nowadays World Music is a thriving niche market in the global entertainment industry.
Indian music and archive things
"World Music" has sometimes been criticised as a definition so vague as to be meaningless, or attacked by conservative commentators as the expression of a Western liberal tendency to idealise exotic traditions while undervaluing or ignoring its own cultural (or musical) heritage. Whatever the rights and wrongs of these arguments, it is certain that John Peel made his listeners aware of various kinds of world music from the beginning of his UK broadcasting career. In 1967 Indian classical music was fashionable due to George Harrison's use of the sitar on some Beatles tracks, so Peel responded by occasionally playing tracks by Ravi Shankar on his Perfumed Garden show on Radio London. When he was hosting Top Gear on BBC Radio 1 he featured sessions by Indian classical musicians Vilayat Khan and Imrat Khan, despite the fact that their music was radically different from anything else heard on the station.
Night Ride owed its unique format to the existence of a large collection of non-Western music in the BBC Sound Archives. Some of these "Archive Things", as Peel called them, were included in every edition of the programme. They appealed to the late-sixties hippy taste for exotic and mysterious sounds and often blended surprisingly well with both the acoustic folk and experimental avant-garde music also featured on Night Ride.
After the "son of Night Ride", the "nameless" Wednesday evening John Peel show, was taken off the air in autumn 1969, it was no longer possible for Peel to play so many exotic pieces of music within the more conventional framework of Top Gear. Yet as the sixties ended, the influence of non-European musics on artists who did sessions for Peel's shows continued. Not only the early Incredible String Band but other hippy-era groups like Quintessence and the Third Ear Band were inspired by Indian and other Asian musics.
At the same time, the American Black Power movement prompted an interest in African music, and in London a number of African bands emerged.The most successful of these was Osibisa, founded by three Ghanaian highlife musicians with the addition of several West Indians; they did three Peel sessions between 1970 and 1972 and enjoyed popularity in the 1970s with their albums and energetic live performances. Gaspar Lawal also recorded a session that was broadcast on 28 August 1971 on Viv Stanshall's Radio Flashes while Peel was on holiday. In July 1973, there were debut sessions from Africa artists Oseni, Bongos & The Groovies, the Steve Rhodes Singers, and Fela Kuti. The DJ would later identify a single found in John Peel's Record Box, 'Tickey Dopies' by Sipho Bhengu, as the first African record he played on the radio, "back in 1971".[4]. When he played it on 29 September 1978 he said this was given to him by Jill Furmanovsky. In 1992 in his Little Richard Cover Search he came across two copies of Brother Blue by Onzhet Hetulate, a "25 year old" single from South Africa on Tops Records. He gave one to Andy Kershaw.
The hippy trail
The early 1970s saw Reggae and Irish music feature increasingly regularly in Peel's playlists. While both genres had found acceptance with sections of the British audience - reggae with mods and skinheads, Irish music with folk music fans - they were too exotic for some of Peel's listeners, who wanted him to stick to the American and British "progressive" music which was the staple fare of Radio 1's Sounds of the Seventies programme strand. Sometimes they expressed their distaste in overtly racist terms, but this did not deter him from including more examples of the genres in his programmes, especially as white rock music of the time was becoming formulaic and predictable.
During the 1970s there was a steady increase in releases of world music LPs, on labels such as Nonesuch Explorer, Argo and Tangent. Much of this material reflected the interests of the post-hippy generation, in that it often came from countries which were on the overland "hippy trail", from North Africa, the Balkans and Turkey through Iran and Afghanistan to India, Nepal and Tibet. The music often had a classical, religious or mystical context, illustrating the growing fascination with Eastern religions in this era, and was sometimes played on BBC Radio 3. But all this passed Peel by. As an observer of the rock scene he saw musicians such as Pete Townshend, Ronnie Lane, Richard Thompson and John McLaughlin become followers of Eastern spiritual leaders, yet was himself wary of such involvement (though it did not prevent him from selecting the session by McLaughlin's Indian-inspired band Shakti as one of the best of 1977).
When punk arrived, it only reinforced his scepticism. Part of punk's attraction was its concern with the here and now and its localism, rather than being obsessed with "where it's at" - be it London, California, Marrakesh or Tibet. The home-made, do-it-yourself aesthetic of punk gave rise to networks of small record labels and fanzines which expressed the nitty-gritty of young people's lives in the midst of economic crisis and social tensions. World travel was no longer fashionable, especially as the overland hippy trail was now closed to all but the most intrepid adventurers, due to revolution in Iran, war in Afghanistan and the continuing Chinese occupation of Tibet. Eastern religions, too, lost much of their appeal, with the growth of authoritarian religious cults in the West and militant fundamentalism in many Asian countires. Consequently, world music all but vanished from Peel's playlists in the late 1970s apart from Reggae and British and Irish folk. He did however continue to display his eclectic taste by playing occasional items like Kalama's Quartet's "Inikiniki Malie" from Early Hawaiian Classics 1927-1932 on Folklyric on 13 June 1979 . (Hawaiian music had been part of American pop since the 1920s, and in the 1960s and '70s was rediscovered in the wake of the blues revival, along with other ethnically distinctive American styles like Cajun, Zydeco and Tex-Mex.)
Zimbabwe - world music with a beat
In the 1980s world music was once again heard on Peel's shows, albeit in very different forms. The generation change which had produced punk in Britain and the US had its equivalents in many Third World countries, which experienced high population growth and mass migration from the countryside to the cities. New forms of pop music appeared, reflecting these social changes, but were initially ignored by ethnomusicologists, who preferred to look for "pure", uncommercialised music forms in the countries they visited. Attitudes changed, however, and gradually non-Western popular styles developed a following.
Peel was particularly drawn to the newer forms of African music. In 1980 Zimbabwe, formerly Rhodesia, gained its independence. Rhodesia's white minority government had declared independence from the Commonwealth in 1965, refusing to accept the end of colonial rule and the transition to an African-governed, independent state which had occurred elsewhere on the continent. Some conservative and racist elements in the UK supported the "illegal" regime of Ian Smith, while those on the left sympathised with the African liberation struggle. Throughout his career Peel had been enthusiastic about black music and culture, from blues in the 1950s and 1960s to soul music in the early 1970s and reggae in the later part of the decade. The exuberant "jit" music of post-independence Zimbabwe soon began to feature in his playlists, with names like the Bhundu Boys, the Four Brothers and John Chibadura and the Tembo Brothers appearing regularly. Demand for their music led these Zimbabwean artsits to visit Britain and record sessions for the BBC, for both Peel and his Radio 1 colleague Andy Kershaw, who was establishing a reputation as a champion of African music. After Peel's death Kershaw described the moment they first heard the Bhundu Boys:
"Peel and I were in the office at Radio 1. We sat staring at each other, thinking this recording was absolutely wonderful. It was the dazzling quality of the music, the harmonies, the sparkling guitar playing."
Kershaw also revealed in his tribute programme in October 2004:
"I remember I think in the summer of 1986 going to see the Bhundu Boys for the first time with John at some college down in Chelsea. And I turned round to look at him halfway through the gig and there were tears streaming down his face, and he described the music as the most natural flowing music he had ever heard in his life."
In fact, Zimbabwe and its music played a significant role in Peel's life during the 1980s. The Four Brothers were booked by his wife Sheila as surprise guests for his fiftieth birthday party, after the pair had visited Zimbabwe and experienced its music scene at first hand on a trip organised by the British Council and the BBC World Service. Peel was so impressed by the country that he even considered moving there, as Sheila relates (Margrave of the Marshes, p.338), and he ranked the Four Brothers' performance in his own back garden among the greatest gigs of his life.
Peel's travels, both on behalf of the BBC or with his family, took him to many countries from Bulgaria (whose folk music sung by female choirs became popular in the 1980s and was played on his programmes) through much of Europe to Russia and Japan. They added an international flavour to his playlists, yet he did not go out of his way to feature music with recognisable folk origins, with a few exceptions such as the Austrian punk-folk duo Attwenger, for whom he had a brief enthusiasm in the 1990s. He did share a strong liking for African music with Andy Kershaw - Sheila Ravenscroft mentions their shoppiing visits to Stern's, London's specialist shop for African records in Margrave of the Marshes (p.330) - but it was Kershaw who played this music more extensively.
It's all world music
By the late 1980s world music had become fashionable, thanks to the efforts of Kershaw, Peel and the interested parties (mentioned at the start of this article) who had named the genre. Peel had mixed feelings, as he told John Walters on Peeling Back The Years [5]:
JP You see, people are always determined - and I can understand why, because it's a handy marketing thing and so forth – but I can never understand why people are so desperate to stamp some kind of group identity onto all of these things. Because as far as I'm concerned, something like the Butthole Surfers or something like that is as much world music as whatever people regard as being world music, like the Bhundu Boys or something like this or whatever it happens to be. I mean, it's either really good or bad or exciting or not exciting.
JW: Probably like a famous quote when somebody asked Louis Armstrong how he felt about folk music and just say, "Well, I ain't never heard a horse sing." Something like that. It's all folk music.
JP: That's right.'.
The listings in Ken Garner's The Peel Sessions bear this out. Among the artists who recorded sessions for Peel's shows are many from the world music "scene", including numerous Zimbabwean singers and groups (headed by the Four Brothers, who did four sessions between 1988 and 2000), other African performers such as Diblo Dibala, Kanda Bongo Man and Papa Wemba, and even some well-known but less obvious names such as Fela Kuti (1973), Natacha Atlas (1995) and Marta Sebestyen (1988). There are also British-based world music fusions such as the Frank Chickens, the Three Mustaphas Three and The Ukrainians (a spin-off band from Peel favourites The Wedding Present).[1]
But they are greatly outnumbered by artists whose work does not fit the accepted definition of world music - both Anglo-American acts and many from elsewhere, most notably Germany, a country with which Peel maintained a close connection through his broadcasts on BFBS and various German radio stations, as well as by regular personal visits. The band Freiwillige Selbstkontrolle (FSK) did seven Peel sessions between 1985 and 2000, more than any world music act managed to do in the period. Germany, a source of music for Peel from the first Krautrock and Kosmische Musik records of the 1970s until the 2000s, figures in world music's network as a market where records are sold rather than as a source of local music with world appeal. It therefore serves as an illustration of the limitations of "World Music" as a tag - often only applied to music from certain fashionable areas of the world - and of Peel's natural inclination to play music which appealed to him, regardless of its origin.
References
↑ In the mid-1990s, Strange Fruit issued two compilations of Peel sessions by "world dance fusion" artists on Nation Records, who combined traditional music elements with modern rhythms, featuring Transglobal Underground, Fun Da Mental and Loop Guru.[1] [2]