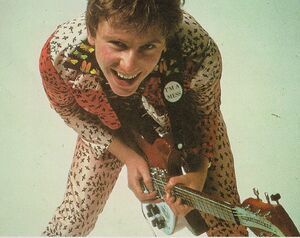 Eric Goulden (born 18 May 1954), known as
Wreckless Eric
, is an English rock/new wave singer-songwriter, best known for his 1977 single "Whole Wide World" on Stiff Records. More than two decades after its release, the song was included in Mojo magazine's list of the best punk rock singles of all time. It was also acclaimed as one of the "top 40 singles of the alternative era 1975–2000". Goulden never forgot it was this song which gave him his break: in 2015, he said:
"Whole Wide World existed before Stiff Records, and exists after Stiff Records, and it's a thrill to play."
[1]
AllMusic said of him:
"With his whiny, slurred cockney voice, Eric couldn't always carry a tune, but that didn't prevent him from being an enjoyable, rough-hewn rock & roller with a clever streak. With his early Stiff singles "Whole Wide World," "Semaphore Signals," and "Take the Cash (K.A.S.H.)," Eric bashed out a series of ragged, chaotic, three-chord punk-pop singles driven by his pent-up energy and a knack for melodic pop hooks. Wreckless Eric never had a big pop hit, but his engaging sense of humour and fondness for simple rock & roll helped make him a cult figure who continued to have a following into the '90s and beyond." [2]
Goulden launched a low-key comeback in the 2000s and subsequently went to live and work in the States.
Links to Peel
Stiff Records had a do-it-yourself approach that was catnip to JP as a dyed-in-the-wool supporter of independent labels, and Wreckless Eric was without a doubt one of its most eccentric artists. Since each single on the label had a BUY prefix to the catalogue number, the feted Whole Wide World was BUY 16, and Peel was taken with the song to the extent that it made the top 50 of his 1977 festive chart. The two sessions followed in fairly rapid succession, and JP featured his debut LP over two nights (JP commenting wryly, "We enter The Wonderful World of Wreckless Eric – we decide we don't like the carpets and leave again."). Interest gradually petered out until he appeared in John's playlists no longer after 1980.However, he returned to BBC Radio with a session for Andy Kershaw in 2001.
In 2016, Goulden acknowledged Peel's formative part in his musical tastes: "Then there was "Top Gear" with John Peel. He played bands like Led Zeppelin before they were anything. The first time I heard them on John Peel they were called The New Yardbirds." [3] He added: "He was the only DJ playing obscure stuff at the time." [4]
Festive Fifty Entries
Sessions
1. Recorded: 1977-09-25. First broadcast: 11 October 1977. Repeated: 03 November 1977, 21 December 1977
Whole Wide World / Semaphore Signals / Personal Hygiene / Rags And Tatters / Reconnez Cherie
2. Recorded: 1978-03-01. First broadcast: 08 March 1978. Repeated: 07 April 1978. Credited to WE and the New Rockets.
Semaphore Signals / Waxworks / Grown Ups / Brain Thieves
Other Shows Played
External Links
Community content is available under
CC-BY-SA
unless otherwise noted.