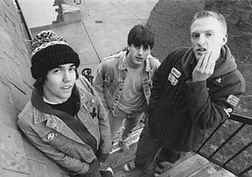 "Let's be honest, there's a thousand and one bands making that kind of racket today, but I think Yesterday's Kids do it better than most." [1]
Yesterday's Kids
were a power pop/pop punk trio from Neenah, Wisconsin, active from 2000 to 2002. Previously known as Amazing Larry, their members were Joe Schmidt (drums), Jon Heibler (bass) and schoolfriends Justin Perkins and Tim Schweiger. They released two albums conjointly on Lookout! and Panic Button, the first being
Everything Used To Be Better
(2001). Songs were mainly written by Schweiger and Perkins separately: by the time
Can't Hear Nothin
came out a year later, Heibler had left the band.
Links to Peel
John picked up rather late on this short-lived group, giving substantial airplay to their second LP (possibly intrigued by their opening track, a homage to another of his favourites, Shadowy Men On A Shadowy Planet). Can't Hear Nothin' was also chosen for the July 2002 (Peel's Record Box).
Festive Fifty Entries
Sessions
Other Shows Played
External Links
Community content is available under
CC-BY-SA
unless otherwise noted.