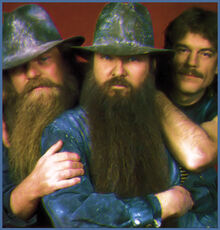 ZZ Top is an American rock band formed in 1969 in Houston, Texas. The band has, since 1970, consisted of vocalist/guitarist Billy Gibbons (the band's leader, main lyricist and musical arranger), bassist/vocalist Dusty Hill, and drummer Frank Beard. The band released its first album, ZZ Top's First Album, in 1971. Beginning with blues-inspired rock, the trio later incorporated new wave, punk rock and dance-rock by using synthesizers. Their songs have a reputation for containing humorous lyrics laced with double entendres and innuendos. The band's top-selling album is their 1983 release Eliminator, which sold more than 10 million copies in the United States.
Links to Peel
Peel played the band's material in the 70's, when they were more of a blues-inspired rock band. Whilst reviewing their Francene single in Singles, published in Disc & Music Echo on 10th June 1972, he described the band as sounding like the Rolling Stones, even mentioning the single reminiscent of "Brown Sugar" - right down to some of the little production details. Despite this, he played the single on his shows in 1972. By the time, punk arrived, ZZ Top were largely neglected by Peel and when he reviewed their latest single, Legs, on Round Table, that was broadcast on 15 February 1985, he described the song as terrible stuff.
Shows Played
1975
1977
External Links
Community content is available under
CC-BY-SA
unless otherwise noted.