Zambia, officially known as The Republic of Zambia is a landlocked country in Southern Africa, neighbouring the Democratic Republic Of Congo to the north, Tanzania to the north-east, Malawi to the east, Mozambique, Zimbabwe, Botswana and Namibia to the south, and Angola to the west. The capital city is Lusaka, in the south-central part of Zambia. The population is concentrated mainly around Lusaka in the south and the Copperbelt Province to the northwest, the core economic hubs of the country.
Links To Peel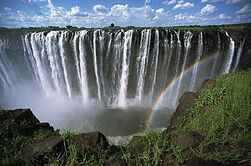 Peel and Sheila got to visit Victoria Falls, that is situated between Zambia and Zimbabwe in 1988 and crossed the border from Zimbabwe to Zambia with the intention of crossing to see the falls from the other side. One of the ways he convinced the border guards to cross the territory according to Margrave Of The Marshes was to mention a few Zambian records to the guards, who were impressed with his knowledge of the local music and singing a duet with one of the border guards on a few verses of 'Samora Michel' by the Zambian band Shalawambe.
Peel often played music from Zambia and some of them did sessions for his show. Only two artists from the African continent have had Festive Fifty entries, one from the Bhundu Boys of Zimbabwe and the other from Shalawambe of Zambia.
Sessions
The following artists from Zambia recorded sessions for the John Peel Show:
Festive Fifty
The following artists from Zambia had Festive Fifty entries for the John Peel Show:
Compilations
(Tracks played by Peel from various artist (v/a) compilations featuring music from Zambia. Please add more information if known.)
(LP - Shani! The Sounds Of Zambia) WOMAD
(LP - Zambia!! - An Introduction) Mondeca
(LP - Zambiance) Globe Style
See Also
External Links
Community content is available under
CC-BY-SA
unless otherwise noted.